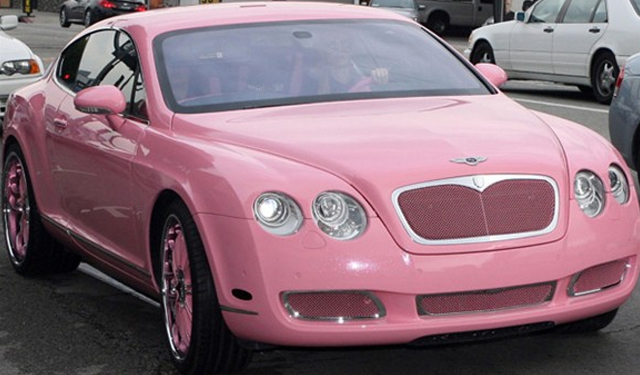 Advertisements
Cars have always been used to express one's taste, style and passions and while most of us won't ever get some of the cars we desire, these celebrities can get them with a weekly paycheck. Check out these celebrities and their extravagant cars.
11. Bentley Continental GT owned by Paris Hilton
Here is something that doesn't really appeal to everybody, but in this case it perfectly reflects the owner's taste.
Bentley has established themselves in the world of the luxury cars and they offer number of models intended for people who want to enjoy luxury and performance. However, that wasn't enough for Paris and she customized her Bentley so it fits her – it is pink and all about bling. We won't go into performance numbers, it is enough to say that it costs 285 thousand dollars. This car most certainly doesn't express Bentley values, and to be honest, it is probably not desirable to most of us, that's why it's on the last place on our list.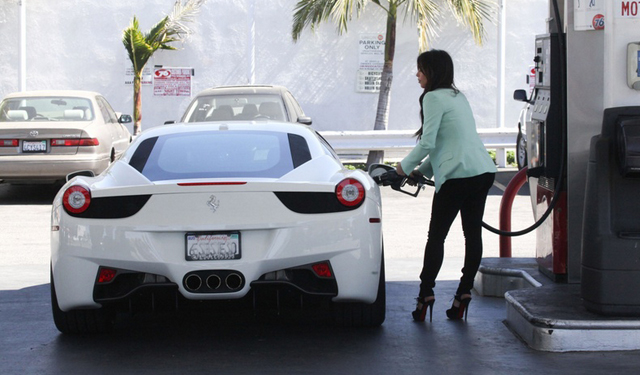 10. Ferrari 458 Italia owned by Kim Kardashian
Ferrari always made stylish and fast cars and that gave this Italian manufacturer world wide popularity. Lot of celebrities love Ferraris and Kim is not the exception.
Her choice was the white 458 Italia and even though this might not be the fastest car, it is all about driving pleasure and most of us would like to get behind the wheel. This car is powered by 4.5 liter V8 which generates around 650 HP. That is enough to push this car from 0 to 60 miles per hour in impressive 3.3 seconds. To be honest Kim didn't buy this car because of its performance but rather because it looks stunning from every angle. Car like this doesn't come cheap, she paid 325 000 dollars for it. Pocket change for her.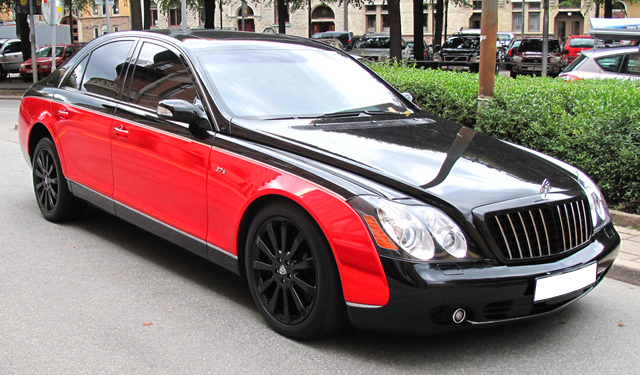 9. P Diddy's Maybach
There are luxury cars, and there are cars so luxurious that even money doesn't affect their production process. Maybach is the best example. It is one of those cars that you don't drive, but rather have your own driver to take you anywhere you want in a comfort that most of us can only see on TV.
However, P Diddy didn't buy this car for himself but for his son as a birthday present and his first car. Needless to say that we would all like to get birthday presents like that. When it comes to average teenagers, they usually get beat down cars whose value measures in weight for scrap, which they can't really destroy much more. This is the best example of how much those two worlds differ. P Diddy paid 360 000 dollars for this car.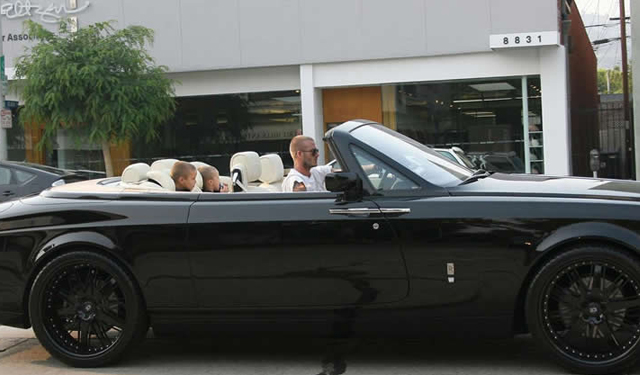 8. Rolls Royce Phantom Drophead Coupe owned by David Beckham
Rolls Royce has been synonym for luxury for many years and it is one of the most popular car brands among rich and famous. David Beckham followed that path and he got the customized Rolls Royce Phantom Drophead which, we have to admin, looks pretty good.
It is black on black sitting on the 24 inch rims. Luxury white interior is engraved with Beckham's famous number 23 which he carried for years. When it comes to performance, it is impressive when we consider its size and weight of almost 6000 lb, but only because of its 6.75l V12 engine which generates 450 HP. It will go from 0 to 60 miles per hour in 5.6 seconds and its maximum speed is limited to 150 mph- keep in mind that this is a luxury car. Beckham paid 407 000 dollars for it.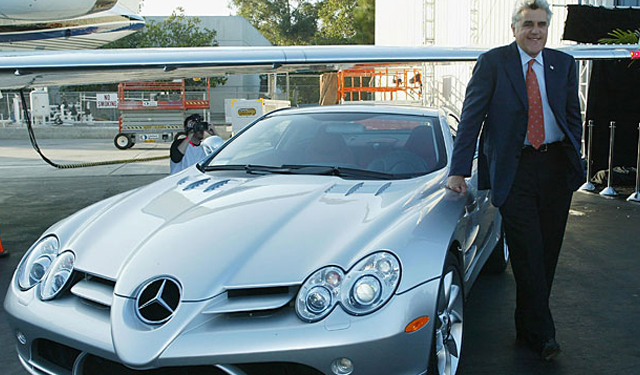 7. Mercedes SLR McLaren owned by Jay Leno
Jay Leno is known among car enthusiasts as serious car collector, he has around 300 cars and motorcycles, but he managed to find some more space for this amazing car. When it comes to the SLR, it is simply stunning and it has everything- amazing design and top level engineering.
Regardless of your love for cars, every man and woman would like to have something like this because it is one of those dream cars, just like Ferrari F40. 5.4 liter engine generates around 620 HP giving this car the ability to compete with some of the biggest names in the industry. If you ever thought about buying a car like this, it is not going to be cheap or easy to find because only 3500 of these cars are built and Jay Leno paid half of million dollars for his.
Advertisements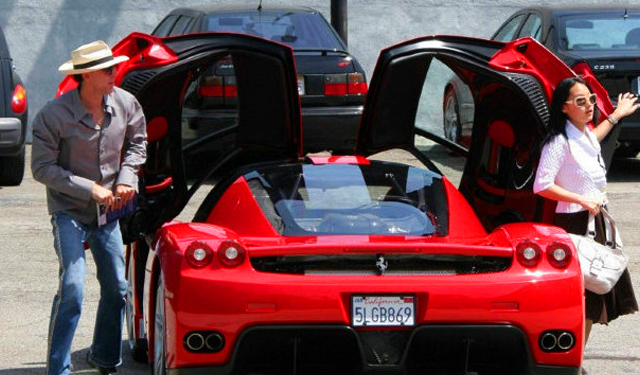 6. Ferrari Enzo owned by Nicolas Cage
Nicolas Cage is another celebrity who recognized Ferrari's superior design and engineering, as well as driving pleasure. Enzo is one of Ferrari's symbolic cars because it was made to mark the Ferrari's success in Formula 1 for the new millennium and it was named after the man who created this Italian car company- Ferrari Enzo.
When this car came out, only certain people could buy it, specially selected people by Ferrari's management who were their previous customers. Only 400 were made their price could fetch around million dollars nowadays, but whatever the case is, Cage managed to get his hands on one. 650 HP V12 engine gives this car some amazing performance, it will reach 60 mph in little over 3 seconds and it can reach maximum speeds of over 220 miles per hour. This car set Nicolas Cage back 670 thousand dollars, but he probably doesn't sweat over it.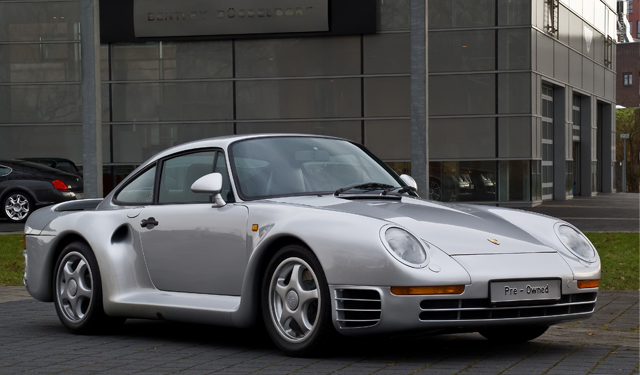 5. Porsche 959 owned by Jerry Seinfeld
There probably aren't a lot of people that didn't watch at least an episode of Seinfeld on this planet. Because this show was so popular, it made Jerry super rich. He is well known for his passion for Porsche cars and since 959 is one of the rarest Porsches as well as most advanced (for the time) he had to get his hands on one.
Interesting thing about his car is that Porsche spent more money building them than they would sell them for. This car was, for short period of time, on top of the world mostly because of its amazing engineering. Its amazing 2.85 liter engine, paired with all wheel drive, could push this car all the way up to 200 mph, which was unbelievable speed for the time it was produced ('86-'89). However, its glory was short-lived, due to production of Ferrari f40, but it will always be one of the best cars ever made. Seinfeld spent incredible 700 000 dollars for his, which is nothing for him.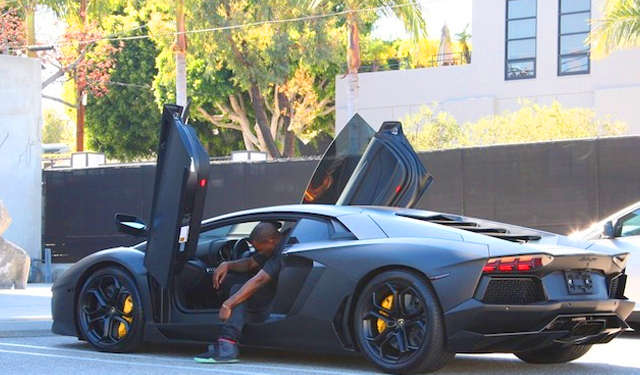 4. Lamborghini Aventador owned by Kanye West
Lamborghini always made extreme cars which took the design and engineering to the next level. This doesn't necessarily mean that everybody likes them, but most car enthusiasts do, as well as celebrities. Aventador is truly a masterpiece and it wasn't long before many celebrities found themselves behind the wheel, Kanye is one of them.
He got his Aventador as present from Kim Kardashian, who allegedly paid this present astonishing 750 000 dollars. You might ask yourself how a car that costs around 400K can reach a price this big. Well, first thing Kim could spend money on is additional options which could cost tens of thousands of dollars. Second thing is custom work which also isn't cheap, especially for this car. Aventador's V12 6.5 liter engine develops close to 700 HP and it gives this car some impressive performance numbers- it reaches 60mph in less than 3 seconds, while its maximum speed is exceeding 220 miles per hour.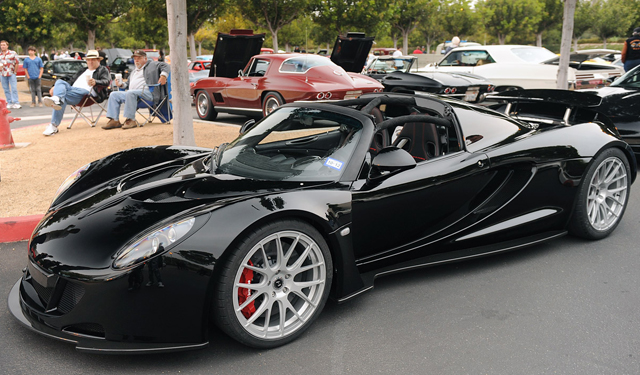 3. Hennessey Venom GT Spider owned by Steven Tyler
Even though not as many people know about this car as for let's say Bugatti, it is actually a car which battled the Bugatti for the title of the fastest in the world.
There are some controversies surrounding this whole ordeal, but when it's all said and done, technically it is a faster car reaching a top speed of over 270 miles per hour. Some people want to stand out and this is basically the perfect car for that. Steven Tyler bought himself one of the most desirable cars in the man's world. However, as all of the cars from our list, this car doesn't come cheap, Steven paid 1.1 million dollars for his dream car.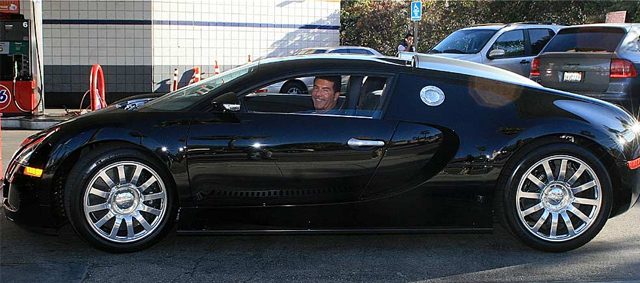 2. Bugatti Veyron
This is one of the most popular cars among the celebrities and it is also one of the most expensive ones. Some of the celebrities that own this car are Simon Cowell, Birdman, Flo Rida, Lil Wayne, Game, etc.
This car held the title of the fastest car in the world for quite a while and it is a true engineering marvel. W16 engine has four turbos and depending on the version it can develop up to 1200 HP. Its amazing engine will push this car to 60 in 2.5 seconds and it gives it maximum speed of almost 270 miles per hour. This car doesn't come cheap, but from this bunch, cheapest is the one owned by Cowell, and it costs 1.7 million dollars, while the most expensive is the Game's Bugatti which costs 2.2 million dollars. It is ultimate symbol of wealth and that is probably the main reason it attracts rich and famous.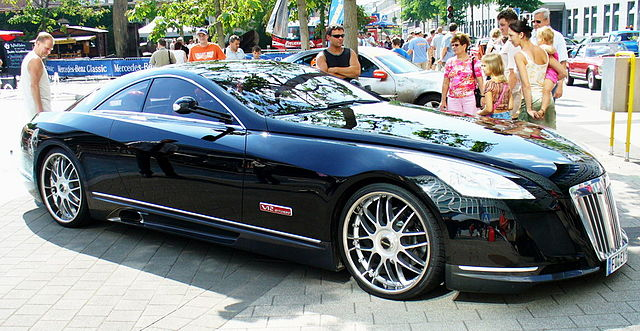 Advertisements
1. Maybach Exelero
Maybach Exelero is one of the most extravagant cars in the world and it is also most expensive among celebrities rides.
Jay Z is the first celebrity that got his hands on this car and recently Birdman reportedly got his dream machine. Now when it comes to performance, it is not the fastest car on the list, but considering the price of 8 million dollars it is certainly most expensive. Although it has a 700 HP V12 engine it will reach 60 miles per hour in 4.4 seconds mainly due to it s immense weight of 2.6 tons, however, it still has maximum speed of almost 220 mph. It seems like there is no crisis among rappers since they own most of the top cars on our list.